Illinois Magician
[nivo category="homepage" width="920″ height="300″ effect="random"]
Looking for a magician in Illinois?
Look no further than Tim Balster, Illinois magician! Tim has astounded thousands in Illinois for over 30 years. His appearances as a magician in Illinois include appearances at numerous School assemblies, Scout groups, veterans groups and a wide array of private special events such as corporate events, birthday parties, graduations, first communions and awards banquets.
Illinois Magician Tim Balster
His astonishing magic is matched by his quick wit and charm that instantly wins over his audience. Tim offers shows to fit any need or budget range including:
Illinois Close up magic with cards, coins and borrowed objects, presented for small groups either standing or seated. The magic happens right in the hands and under the noses of the astonished guests! Tim mingles among guests, weaving his comedy and magical entertainment into your event in a more subtle manner. Tim can even tailor a message into his presentation
for corporate magic applications such as trade show booth presentations and hospitality suite entertainment.
Stand up Shows presented for a larger groups when the entire focus of the group in on Tim as he dazzles the audience with amazing comedy magic that includes lots of audience participation. The memories he creates last long after the gasps of amazement , laughter and thunderous rounds of applause have faded.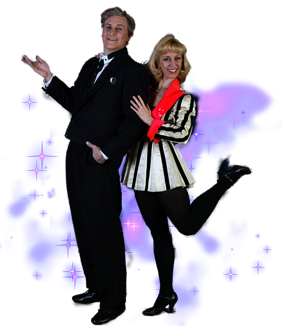 Grand Illusion Shows in Illinois
When Tim's wife Robin joins in on the show, it takes it to a whole new level. Together they present big scale illusions such as sawing a lady in half ( with a modern twist of course!) , the gravity defying broom suspension and the incredibly speedy transposition known as the Metamorphosis, made famous by Harry Houdini! These are just a few of the awesome feats they create together as a team. The Balsters have traveled to the world with their magical entertainment that transcends all age and language barriers. Their travels have taken them to Canada, Mexico, South Korea , Japan and dozens of exotic ports of call .
Also check out Tim's educational magic show  The Wizards Apprentice in Illinois
The Balsters are a magic marvel unmatched by any other in the Illinois area. They are a world class act that is available to you on a local and reasonably priced level!