Toy Soldier
Tim as a 10′ tall Toy Soldier on stilts is holiday whimsy on steroids!  Funny, amazing, magical, interactive, thoroughly  entertaining and a wildly popular photo opportunity.   This will make a Big impression!  Tim can greet your guests as they arrive and then stroll through the crowd entertaining with amazing magic tricks, and comedic interaction.
Strolling close up Magic.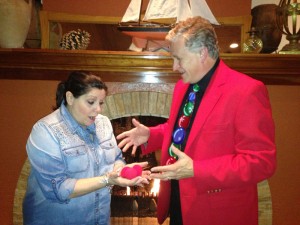 Tim truly  puts the" Magic" into the holiday season with this intimate style of entertainment.  While mingling with the audience in small groups.  The magic is created right in the hands of amazed guests with everyday objects such as money, rings, balls, and cards.  Presented with an uncanny sense of humor, quick wit and charm.  Tim's miracles will have your whole event abuzz with astonished participants relating their experience to each other.  Tim is Sure to make your event one to be remembered for years to come!
Rudolph
This beloved character is always a favorite with the youngsters.  He is adorable, cute, cuddly and can't wait to give a high five, a hug and take a picture!