For Immediate Release

6-19-14

Hinsdale, IL July 4th Celebration

Contact:  Tim Balster

Tim@BalsterMagic.com

BalsterMagic.com
Tim Balster Still Walking Tall at This Year's 4th of July Parade!
Famed Master Magician, Tim Balster will make his 22nd consecutive appearance at this year's Hinsdale 4th of July parade!
This year as the 10 ft TALL Stilt Walking Uncle Sam
       Who:   Master Magician Tim Balster (as seen numerous times on WGN Bozo Show)
     What:   10 ft TALL Uncle Sam Stilt Walking in Stars & Stripes – Red/White/Blue
    When:   4th of July Morning 10: AM until Parade ends
  Where:   Parade Starts at the corner of 6th & Ulm proceeds to Down Town Hinsdale, IL
Contact:   Gina Hassett (630) 789-7013 – Director, Parks & Recreation Hinsdale, IL
A Hometown Boy: As a native of Hinsdale, Tim made his first appearance in the parade as child pulling a homemade model of the Liberty Bell on his red, white & blue decorated bike.  At age 11 Tim had completed the entire parade on a pogo stick! The feat landed him on the cover of the Hinsdale Doings Newspaper.  As he got older his tricks got more elaborate and by high school his entry into the parade included riding a unicycle and juggling.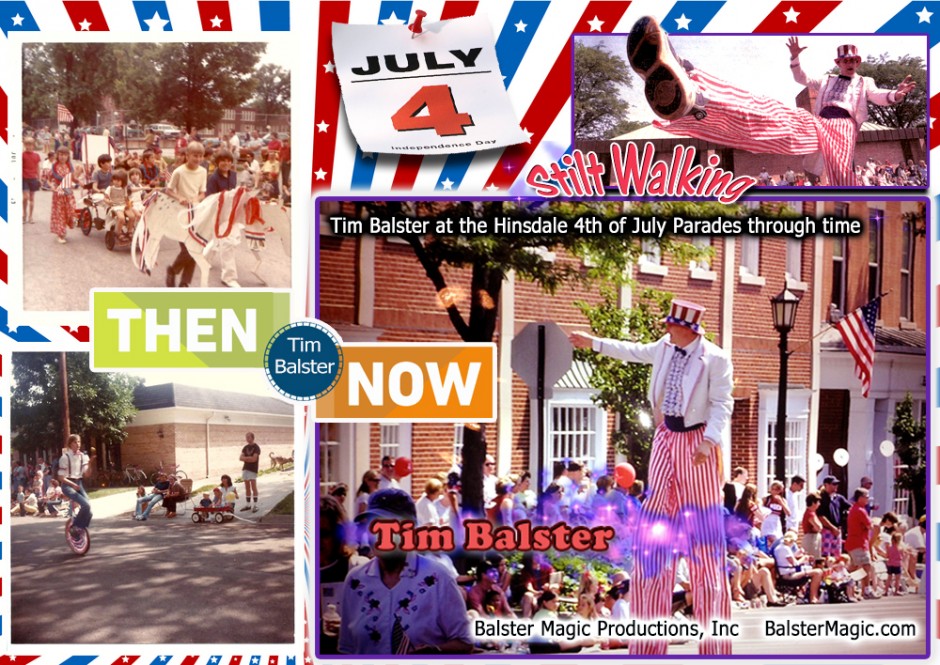 When Tim's career as a professional Magician took off in the mid eighties, his busy travel schedule across the country and around the globe made appearing in the parade impossible.  Tim was busy performing in Japan, making numerous appearances on the Bozo Show and performing his signature Levitation Act.
In 1992 Tim returned to his roots and joined the parade as Uncle Sam on Stilts as requested by the Village.  Tim was thrilled at the opportunity to take the trip down memory lane.
"I am so excited to have been part of this long standing tradition in my hometown.  I am looking forward to this year's parade and being part of all the festivities." Says Tim.  As the tradition continues for Tim, 2014 will mark his 22nd appearance as Uncle Sam on Stilts!
Way to go Tim!
https://balstermagic.com/7-4-14/         Call Tim at: (630) 258-8442